Actor Mickey Rooney died Sunday in Westlake Village, California, at the age of 93.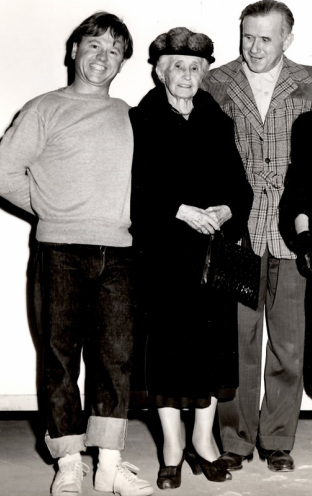 Mickey Rooney, Rachel Taylor ("Radie") Garnett and her son Tay Garnett on the set of Tay's 1950 movie "The Fireball."
Rooney was best known for the Andy Hardy movies, three of which also starred Judy Garland. He was also notorious for having been married eight times - once to movie legend Ava Gardner. He was quoted famously as saying, "When I say, 'I do,' the Justice of the Peace replies, 'I know, I know.' I'm the only man in the world whose marriage license reads, "To Whom it May Concern."

My father, Tay Garnett, knew Mickey Rooney well and worked with him twice - once in the 1937 film Slave Ship, and then again in 1950 in The Fireball.

Here's a story my day told me about an incident that occurred on the set of Slave Ship:

There was a scene in a bar between Wallace Beery and 16-year-old Mickey Rooney. Beery was a large man and powerfully built, while Rooney was quite small. In the scene, Beery is supposed to strike young Mickey. My father said to Beery, "Make sure you pull your punch so the kid doesn't get hurt." Instead, Beery - who was also an abusive alcoholic - wailed on the boy, giving him the full force of the blow.

Mickey Rooney fell to the floor, then picked himself up and ran off. My father took off after him and found him in a dark corner, crying. My dad told Mickey to take a few moments to compose himself before coming back to the set and then he said to him, "I promise you it won't happen again."

A few minutes later, Mickey returned to the set and my father swelled with pride to see this young kid face down the bully. Unfortunately, they had to reshoot the scene but before they did, my father took Beery aside and said, "You do that again and I'll do the same to you, only worse." They reshot the scene and Beery behaved himself.

The next time my dad worked with Mickey Rooney was in the 1950 movie The Fireball, in which a young Marilyn Monroe had one of her very first, credited screen roles.

Thank you, Mickey Rooney, for your longstanding presence in Hollywood and your many contributions to the picture business. We'll miss you.