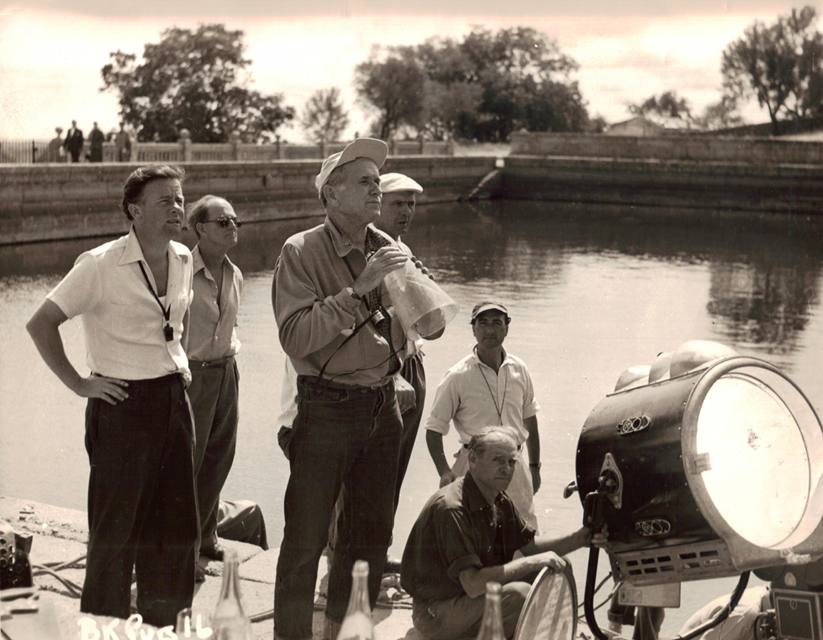 Honoring you on this special day...


Director of "China Seas," "Seven Sinners," "Trade Winds," "Her Man," "Valley of Decision," "Cross of Lorraine," "The Night Fighters," "Valley of Decision," "Mrs. Parkington," "Slave Ship," "SOS Iceberg," "Professional Soldier," "Love is News," "Bataan," "A Connecticut Yankee in King Arthur's Court," "The Postman Always Rings Twice" and countless others...


Not only were you a gifted filmmaker and writer, you were a musician, songwriter, painter, acrobat, pilot, photographer, sailor and cartoonist...


You were also my father and my best friend.


You were born in Los Angeles on June 13th, 1894 so today is your 120th birthday!!!


I would like to take this occasion to thank you, Daddy, for your many gifts to the world of film and also to me. And I want you to know that what's best about me comes from you.


Thank you for other things, too... Like the devils' food cake with the marshmallow icing that you made every year on my birthday, and the hand-drawn birthday cards with the silly poems.


Thank you for all the jelly beans and the nougat ("Which hand?") and the orange blossom perfume you brought from Florida in the bottle that looked like an orange. And thank you for the sweetness of your character.


Thank you for always bringing me great presents when you came back from location... the kilt from Scotland, the kimono from Japan, and the little, gold outfit from China. Thank you for that beautiful Irish doll, and the heather and that adorable shadowbox of an Irish hearth.


Thank you for watching my "tricks" on the jungle gym. I hope I didn't disappoint you too much when I wasn't brave enough to do that one thing you kept trying to teach me.


Thank you for swimming with me and for teaching me to float on my back and to trust the water. In fact, thank you for teaching me to trust.


Thank you for buying my lemonade and eating my burnt cookies and listening to me whenever I had something to say, which was all the time.


Thank you for playing handball with me whenever I asked, even though it must have hurt like hell with that messed up knee of yours.


And thank you for not flinching the day I told you I was going rattlesnake hunting, and for sitting through all my boring plays.


Thank you for always treating me like I was the most important thing in your world (although we both knew that movies were your greatest love).


Thank you for the way your eyes sparkled whenever you looked at me and for that time you told me, "If you took all the women I've ever loved in my whole life and rolled them all up into one person, I still wouldn't love that person as much as I love you."


Remember when I was sixteen years old and I smashed in the side of your T-bird on Andy Williams' iron gate? You were so kind to me - even though you didn't have money to repair the car!


In fact, you were always kind to me...


Thank you for your kindness, and for never criticizing or lecturing me and for never putting me down.


And thank you for telling me not to be a ballet dancer, and not to marry a musician.


Thank you for being someone I could look up to and admire, but also for being a lovable and flawed human. I'm sorry I wasn't nicer to you and that I got impatient when your hearing wasn't always so sharp. Thank you for being tolerant of my impatience and all my other flaws.


Thank you for your amazing sense of humor and all the times you made me laugh.


Remember when you were in the V.A. hospital at the end of your life and the doctor was talking to you about chemotherapy for the weird form of leukemia you had, and remember how he said you would lose your hair? Do you remember your response? You said, "Which one?"


And do you remember how you got confused at the end and kept telling the doctors where to place the cameras?


Thank you for being true to your own nature, Daddy. That's how you taught me to be true to mine.


And thank you, most of all, for showing me what unconditional love looks like. That particular lesson saved my life.


Happy Birthday, my "Doods." I've always loved you and I always will.